International Conference on Sustainability Science in Asia
( ICSS-Asia) 2011.
Parallel Section:4A1 - Sustainability Innovation
Chaired by M.Yarime and Coordinated by Y. Kamimura.
Speakers' Abstracts and profiles:
Prof. Dr. Dinh Van Nha
Director of Institute of Science Technology & Training Omega
Vice General Director of POLYCO Group
Vice Chairman/Vice General Secretary of Vietnam Automation Association
Lecturer of Automatic Control Department, Director of Research Center on Automation of Hanoi University of Science & Technology (HUST)
Some results of applying energy saving and finding new energy resources for sustainability innovation
Abstract: This talk presents some achievements of POLYCO Group – OMEGA Institute and some results of applying energy saving and finding new energy resources for sustainability innovation.
Despite many difficulties and challenges since established, POLYCO has been always focused on its own chosen business and rapidly grown with significant achievements over the past 15 years. Nowadays, it is one of the leaders in Vietnam in the fields of designing, manufacturing, installing thermal and refrigeration equipment and food processing plant for beverage and milk companies. Scientific ideas and technological creations have helped us updating and investigating new techniques, applying high technology, promoting high level of knowledge and Vietnam creation internal force, and bringing about scientific achievements as well as high economic effectiveness. We have successfully installed hundreds of plants throughout the country that bring benefit to the State and companies by saving thousands of billions VND in comparison to the investment by importing such products with the same quality.
Due to the important and the urgent need of applying energy saving in industrial plants, we have recently been developed and provided solutions for energy saving in brewery plants. Such solutions include: electrical consumption saving system in brewery plants; energy saving system that collects thermal steam generated from Houblon brewing to reduce the total amount of steam used in the plant; steam system for burning Metal gas generated from waste water processing system to additionally supply steam for the plant; carbon dioxide recovery system. During the period 2005-2009, we have successfully applied 14 energy saving projects for Beer companies in Vietnam. Finding new energy resources for sustainability innovation is also a critical issue not only for Vietnam since the traditional energy resources are becoming rare. As a solution to this issue, a new cooking gas system has been developed and introduced by Prof. Dr. Tran Binh. This cooking system uses gas which is generated by burning biomass and clean coal and thus has many advantages in order to save energy and protect environment.
Prof. Nha studied at Moscow Engineering Constructional University and received the University degree in 1972 and Doctor degree of Automation in Civil Engineering in 1975. He became Associate Professor at Hanoi University of Technology in 1992. He worked as Post Doc at Delft University of Technology in Holland in 1985. His research areas are Automatic control and Control design. Dr. Nha is the Owner of The Ho Chi Minh Award of Technology and Science (2005) (the most prestigious Vietnamese research award) and the Owner of the Gold Medal of the World Intellectual Property Organization WIPO AWARD CERTIFICATE of the United Nations. The WIPO Award for the best invention is hereby awarded to Prof. Dr. Dinh Van Nha.
The Owner of Two of the First ranking Prizes for "Viet Nam Scientific and Technological Creations Award 2000 - 2004" VIFOTEC (2000 and 2004) (the prestigious Vietnamese research award specialized in Technology)
The Technological Scientific Medal in 2003
The Excellent Labor, an Excellent Scientist- Lecturer for many years
A Labor Medal
Four Scientific and Technological Creations Awards
The Creative Labor Medal
The Medal of Education in 2006
The Gold Cup of the Best Vietnam Businessman in 2008
Two Medals from Prime Minister in 2003, 2005
6 Creative Medals of Ministries on Science & Technology
He was the project leader of 4 science technology research projects in State level and 5 research projects in Ministry level. He is the leader and coordinator of more than 500 scientific and technological contracts specialized on technical transfer for hundreds of enterprises throughout the country. He has published 47 papers (for conferences and journals). He has trained and supervised thousands of the students, hundreds of excellent engineers, 16 masters and 1 PhD.
- POLYCO has reached the first ranking award of "The Vietnam scientific and technological creations" two times (VIFOTEC 2000 and 2004), Award and Golden Medal of World Intellectual Property Organization of UN (WIPO) for the best invention – Hanoi 2005.
- POLYCO has also been honoured by the State with several awards such as the third ranking of Labour Medal 2006, the second ranking of Labour Medal 2007.
- The products of POLYCO elected as one of the major products of Hanoi from 2007 to 2010.
- Especially, General Director A. Prof. Dr. Dinh Van Thuan and Vice General Director A. Prof. Dr. Dinh Van Nha have been awarded the third ranking of Labour Medal 2008 – 2009 honoured by the Chairman of the State.
- Dr. Dinh Van Nha has been named in the list of "Spotlight on: Excellent Researchers from Southeast Asia" presented by EU-SEA NET at the second International Conference (EU-SEA NET), Bogor, Indonesia, 11/2009.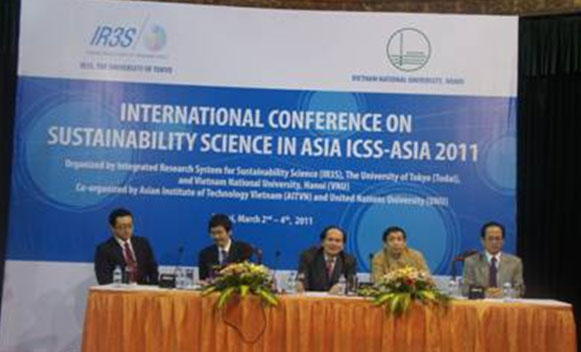 Prof.Dr Đinh Văn Nhã ( Midle-ngồi giữa) đang chủ trì, báo cáo tại Hội nghị Khoa học Quốc tế (ICSS-ASIA 2011)